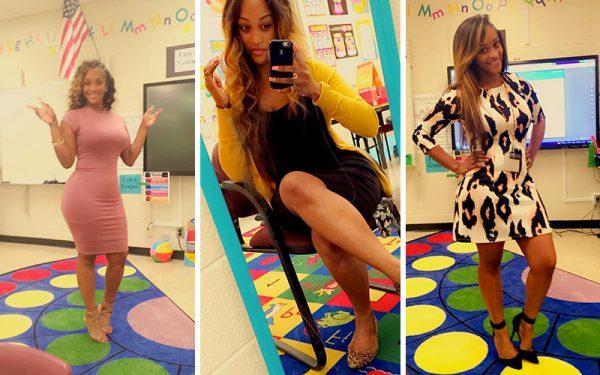 An elementary school teacher in Atlanta has been trending recently on social media inspiring the hashtag #TeacherBae. She placed photos of herself in various outfits she wore to school on her Instagram and a debate erupted over what constitutes professional dress. Someone deemed her the most attractive teacher alive. Another person chimed in that it was good she was in the school because "having an attractive woman educating kids would help encourage fathers to be involved with their children". I am always struck by dress codes because they are often sexist and disproportionally target women. I have never heard of administrators pulling out rulers to measure the clothing of males. Her dresses are approximately knee length and modest as there is no cleavage showing. On jeans day she wears jeans day like everyone else. Her clothes are not revealing or what I would consider unprofessional. But, people still classify her clothes as "club wear" or imply that her career choice should involve a stripper pole rather than chalk, blackboards, and textbooks. There is something incendiary in these statements. People are implying that a young woman who is too attractive for the role of educating children would be better served in sex work. That belief is an attempt to humiliate and shame someone who may be great at her job. So, what is going on here?
The issue is not her clothes. It is her curvy figure. So, let's talk about that. All of this chatter is about something this woman has no control over. She cannot control her hips or her proportions, but was vilified because strangers on the internet sexualized her. Everything she wears is analogous to what others wear in professional environments; if you put the same outfits on a woman who was not similarly proportioned, then there would not be an outcry. And, this expectation is a challenge many women have to navigate. Women in professional workplaces are expected to be attractive, but not sexy. And, if a woman is deemed sexy, then her intelligence and capacity to do her job is undermined. It is interesting that the Instagram photos of her reading to students did not go viral; people posted photos of her outfits. Also, when male teachers post photos in provocative poses the responses were shocking. Male teachers were applauded for being "well rounded" and "good role models". Male teachers were overwhelmingly celebrated for being "fit" and the "sexiest teacher" while this woman in the same profession was slut shamed by many. Slut shaming is when a woman is made to feel inferior for behaviors or desires that deviate from traditional gender roles or norms. Again, you cannot be sexy because if you are sexy, then you are a slut. It is disappointing that this teacher endured judgement over something out of her control. Lastly, I have to address the "attractive female teacher can serve as man bait to get fathers into the schoolhouse and invested in their kid's education" statement. That is idiotic and a disservice to both men and this teacher. If the reason that a father cares to be invested in a child's education is the attractiveness of the teacher, then that father is doing their child a disservice. Moreover, women do not exist to decorate the schoolhouse in hopes of getting fathers to do what they should do in the first place.
I am intrigued when I hear folks talk about dress codes or women to covering up. This is sexism in full effect. Good that this teacher wore jeans that properly fit her instead of baggy ones. As a man I do not buy baggy jeans, so why should she? I like her outfits and sense of style. Above all, I am thrilled that she seems to love her chosen career. I wish people had celebrated her excitement about being an educator instead of her attractiveness. I wish people had not shamed her for a figure that she has no control over. I am disappointed that women face scrutiny when doing their jobs because many evaluate a woman's competence based on her appearance.